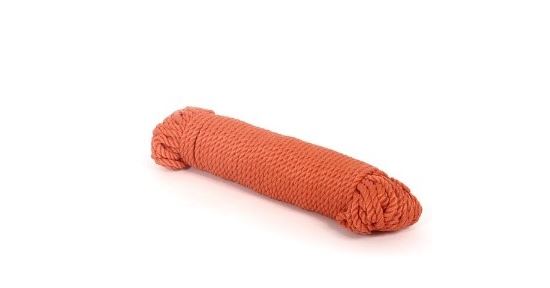 6mm Clothesline Rope (20-Meter Bundle)
€12.50
6mm Clothesline Rope (20-Meter Bundle): Strong and Versatile
Revamp your laundry drying setup with our 6mm Clothesline Rope, conveniently bundled in 20 meters of high-quality, durable cord. This versatile and sturdy rope is the perfect addition to your clothesline system, providing reliable support for all your laundry needs.
Key Features:
Built to Last: Crafted from top-grade materials, our 6mm Clothesline Rope is designed to withstand the rigors of outdoor use. It's tough, resilient, and built to endure the elements.

Ample Length: With 20 meters of rope in each bundle, you'll have plenty of cord to create a well-organized and efficient laundry drying space.

Easy to Work With: The 6mm diameter strikes the perfect balance between strength and flexibility, allowing for easy handling and knot tying.

Versatile Use: Our clothesline rope is not limited to just laundry drying; it's also great for camping, DIY projects, and securing items in your garden or garage.
Why Choose Our 6mm Clothesline Rope:
Reliability: Count on the strength and durability of our rope to support your laundry without sagging or snapping.

Longevity: Designed for outdoor use, our rope is resistant to weathering, ensuring it remains in excellent condition over time.

Convenience: The 20-meter bundle provides ample rope for multiple laundry loads, making it a cost-effective and practical choice.

colour of line may vary between blue and orange
Upgrade your laundry experience with our 6mm Clothesline Rope bundle. It's a versatile and dependable solution that will help you keep your laundry drying process efficient and hassle-free. Order your bundle today and discover the difference that quality rope can make in your daily routine. Say goodbye to flimsy alternatives and hello to a reliable and long-lasting clothesline solution.